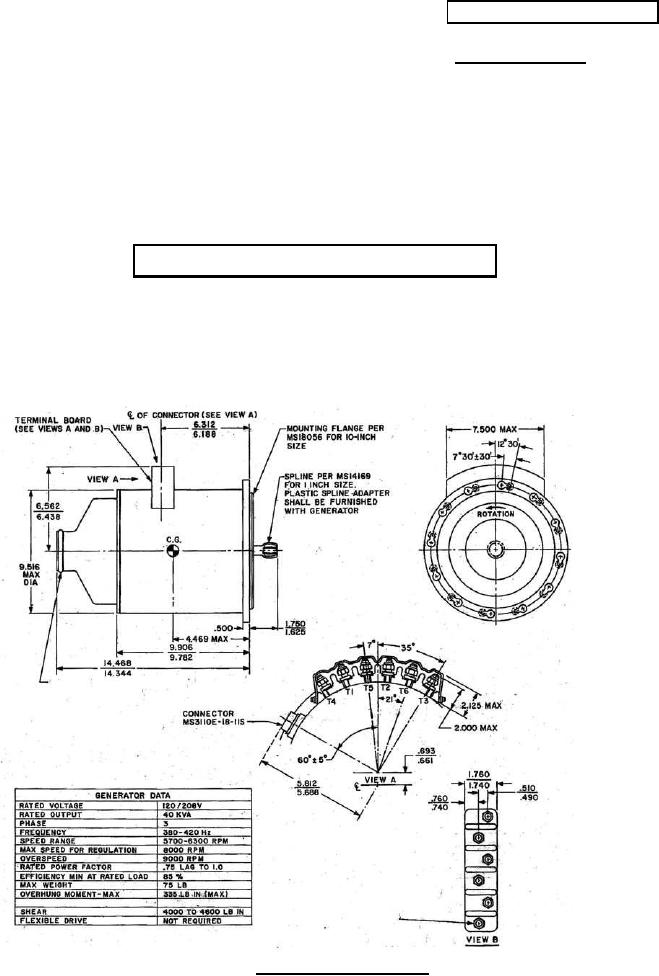 INCH-POUND
MIL-PRF-21480/12F(AS)
6 November 2012
SUPERSEDING
MIL-G-21480/12E(AS)
15 July 1983
PERFORMANCE SPECIFICATION SHEET
GENERATOR SYSTEM, 40 KVA, 400 HZ AC
INTEGRALLY EXCITED, BRUSHLESS TYPE
Inactive for new design after 21 August 1996.
This specification has been approved by the Naval Air Systems Command, Department of the
Navy, and is available for use by all Departments and Agencies of the Department of Defense.
The complete requirements for procuring the generator described herein shall consist of this
document and MIL-PRF-21480.
COOLING AIR INLET CONFORMING
TO SAE-AS5131-48 PER SAE-AS5131
⅜ - UNF-2A
STEEL STUDS
EACH
WTH MS90415-6
NUT
PER NASM90415
FIGURE 1. M21480/12-1 generator.
AMSC N/A
FSC 6115
For Parts Inquires call
Parts Hangar, Inc
(727) 493-0744
© Copyright 2015 Integrated Publishing, Inc.
A Service Disabled Veteran Owned Small Business